At AVEKA Group, we've processed a wide range of personal & beauty care products over the years. By utilizing and executing a variety of methods—such as fluid bed drying, dry blending, tablet coating, and spray drying—we're able to provide our customers with the truly tailored particles they need to take their products to the next level.
Recently, one customer came to us with a proprietary liquid formula that required spray drying to become the fine powder they desired for a consumer-facing, cosmetic product. We eagerly took on the challenge to develop and process this new innovative product.
What is spray drying?
Spray drying is a method in which liquids or slurries are rapidly dried into a fine powder. In a typical drying process, the liquid feedstock is first pumped into the system's atomizer, which usually consists of either a high-pressure fluid nozzle or rotary-atomizing nozzle. These spray nozzles are designed to disperse the liquid slurry into the heated chamber of the dryer as controlled and consistent droplets.
The droplets start to dry in the chamber due to a combination of hot air and continually circulated airflow. When the droplets are fully dried into a free-flowing powder, they are collected off the main chamber, cyclone, or the baghouse.
The unique challenges of a Personal Care & Cosmetic product
Like many projects, this particular product came with several complex challenges that needed to be addressed by our team. These included:
1. The feedstock needed refrigerated storage to limit microbial growth
2. The product had a very low solid particulate content
3. Our process needed to meet rigorous consumer goods standards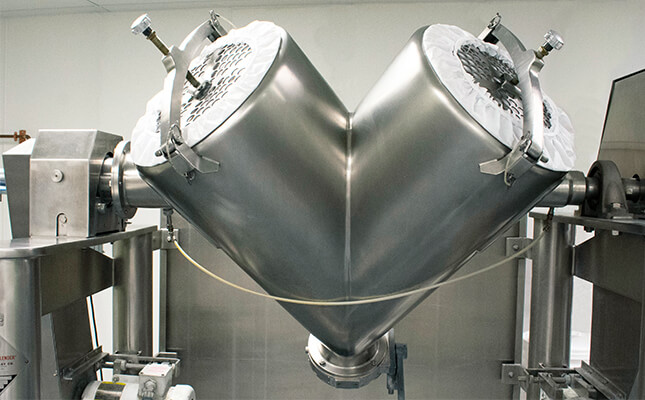 The AVEKA solutions
1. The feedstock was stored in an isolated refrigerator box
Since the customer provided us with frozen materials, we initially stored them inside a large refrigerator box to keep them cool to limit microbial growth and segregated from other materials in the facility. When we were ready to begin the spray drying process, the refrigerated feedstock was moved directly to the dedicated Personal Care processing area at AVEKA.
2. Superfine particles were collected in a portable baghouse
The material itself contained a very low solid particulate content, which traditionally produces a higher amount of very small, dried particles that are challenging to collect. In order to increase the yield of the high-value product, AVEKA added a portable baghouse as the last collection point to collect these fine particles.
3. Good Manufacturing Practices were upheld through the entirety of the process
Since this was a personal care product, we needed to ensure that we adhered to the strict cGMP guidelines for Personal Care & Cosmetic products from start to finish. Samples were taken each day and sent to an outside laboratory for microbial testing, with thorough records being kept on our end.
In addition, all equipment was cleaned, sanitized and equipment surface areas were swab-tested for cleanliness before use, including the refrigerator box and portable baghouse. The dried product itself was quarantined until it passed all quality control inspections.
Once we got the green light, the customer had requested that the product from the different dryer collection points be mixed together. Fortunately, our facilities contain ample dry blending capabilities to accommodate this extra processing step.
A V-blender was chosen to blend the product into a homogeneous end product. Again, samples were taken and sent to microbial testing before it was packaged into 500g mylar bags and shipped to the customer.
Fine-tune your product with AVEKA
If your business needs spray drying or any other particle processing services, then look no further than the experts at AVEKA. From lab-scale samples to tanker truck quantities, we provide toll manufacturing and contract R&D for a wide variety of industries.
Contact us today and we'll work with you every step of the way to find an innovative and flexible solution to your custom powder processing needs.