AVEKA's food grade and industrial fluidized bed drying is an efficient way to dry particles larger than 50 microns.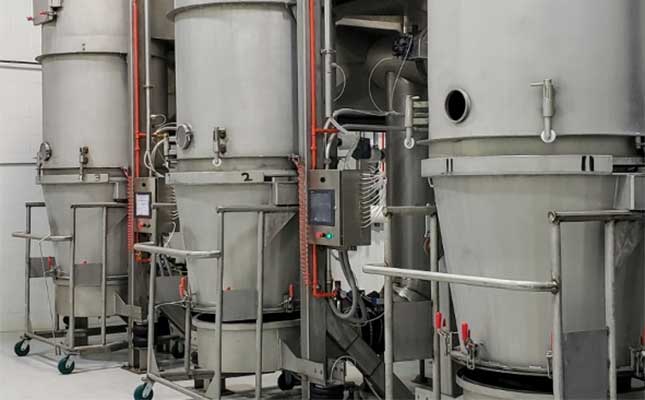 Process
What is Fluid Bed Drying?
Fluid bed drying is a process by which particles, typically greater than 50 microns, are fluidized and dried. For the material to become fluidized, the particulates are placed under conditions that cause it to behave like a fluid. In a fluid bed drying system, air is passed through a perforated distributor plate which provides significant air flow to support the weight of the particles. This gentle drying technique is an ideal way to evenly dry particulates to specific moisture content and can be used for both fragile materials and for even the most robust materials.
The batch process of the fluid beds allows time and temperature to be varied depending on the physical properties and constraints of the materials. The drying temperatures can range from ambient temperature up to 120 degrees Celsius.
Additional options or process steps can be added when setting up your project; R&D support, milling, or screening are just some of these examples. With multiple packaging options available along with engineering support on site, AVEKA has the equipment and capabilities to bring products from small scale to the larger market.
Capabilities and Equipment Specs
Fluid Bed Equipment:
Vector FL-M system

Used for product development, clinical batches and small production
Fluid bed has the capacity to top spray and Wurster coating
Capacity ranges from 2 L to 3 L
Unit temperature can be set up to 100°C
Standard 0.3 micron filters
~ 20µm particles can be processed

Lab-Scale fluid bed

Used for product development, clinical batches and small production
Capacity ranges from 3 L to 19 L
Unit temperature can be set up to 120°C
200µm – 4.5mm particles can be processed

7 Production scale units

Food and Industrial grade units
Capacity ranges from 90 kg to 320 kg in each bowl
Units can be run in parallel
Maximum temperature range up to 120°C
Replaceable internal filter with dedicated dust collector
Maximum air flow = 5900 ft/min

Witte fluid bed

Hot air drying BTU: 190,000
Product input & output temperatures: 20°C to 70°C
Feed rate: up to 160 kg/hr.
Product input moisture: up to 50%
Product output moisture: product dependent, but 4% or less is achievable
Pre- and Post-Processing Capabilities:
PLC interface to regulate temperature and other settings critical to your product
Data trending
Milling
Product screening
Multiple packaging options
Factors to Consider
What is the incoming particle size?
Is it food or industrial grade?
What is the allowable processing temperature range?
What is the incoming moisture content?
What is the final moisture requirement?
Does you product carry any certifications (Kosher, Halal, Organic, others)?