The vast majority of people today have likely never heard of fluid bed drying. Yet in the world of powder processing and toll manufacturing, it is an essential processing platform for food, industrial materials, personal care, and much more. In this article, we'll dive into the process of fluid bed dryers by discussing how they work, what they do best, and how AVEKA was able to apply them recently in an ambitious beauty care application.
What is fluid bed drying and how does it work?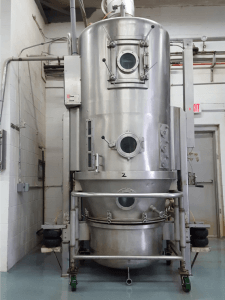 The raw materials requiring drying – typically in the form of a wet cake, a material that has been filtered to remove most of the liquid – are loaded into the fluid bed's stainless steel bowl and rolled into place at the base of the equipment, where it is then sealed in place. Heated air is passed upwards through a perforated distributor plate (the bed) at a high pressure, effectively supporting the weight of the particles.
The material is now considered fluidized, as the air has lifted it completely off the bed and suspended it in the air stream above. It flows and undulates as if in a liquid state, allowing the liquid to evaporate and the particles to dry in a uniform fashion as they're now completely surrounded by hot air.
What are the advantages of fluid bed drying?
Fluid bed dryers are particularly useful when working with heat sensitive particles larger than 50 microns. Drying temperatures can range from ambient to 120 degrees Celsius, depending on the time constraints and heat requirements of the material being dried.
When compared to other common drying techniques, it is a much gentler process and the drying is more uniform. The fluidization and limited physical contact help safeguard the integrity of each individual particle, greatly reducing the amount of product attrition.
Fluid bed dryers are commonly used in production industries such as:
Additive manufacturing
Aerospace & automotive
Animal feed & pet care
Battery & microelectronics
Food, beverage & nutraceuticals
Industrial materials, specialty chemicals & petrochemicals
Personal & beauty care
Pharmaceuticals
Fluid bed drying in a personal care application
A prospective customer reached out to us in order to help with the drying of a new personal care product. Several of the raw materials they were using were either heat sensitive or fragile, so we knew right away that a fluid bed dryer would be the ideal option.
Because of the nature of the industry, there were several challenges with regard to adhering to strict FDA regulations. Rigorous microbial growth testing protocols would need to be followed. There was also the issue of packaging, as removing and sealing the finished product would require technical expertise.
AVEKA's creative resolution
The experts at AVEKA began by successfully testing and blending small batches. Once the results met not only our quality standards but also that of the customer, we were able to immediately ramp up production in the fluid bed suite at our Fredericksburg, Iowa location.
The finished product was a dry, fine powder with a markedly reduced moisture content of 7% (from an incoming level of around 60%). In addition, we blended in certain starch-based materials to create the desired product pigmentation.
Our quality control professionals were able to constantly monitor the initial batches, ensuring standards were consistently being met. Finally, we utilized our pneumatic Vacuum Max to safely and efficiently remove the particles from the dryer and prepare them for commercial packaging.
The result was a cost-effective and high-output process, another satisfied client, and the potential for a next generation product for the customer.
Let's find your unique solution
If your product is in need of fluid bed drying or any other particle processing services, then look no further than the dedicated professionals at AVEKA. With a vast range of processing options – along with on-site engineering support – we have the equipment and capabilities necessary to bring your products from a small scale to the larger market. Contact us today for a commitment-free feasibility assessment.