Precision jet milling equipment for fine particle size reduction with high throughput. The best equipment for your abrasive materials.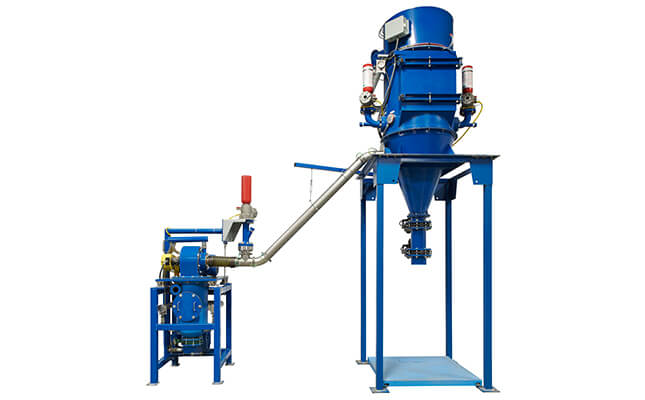 Process
AVEKA CCE designs, builds and sells Fluidized Bed Jet Mills custom for your milling needs. AVEKA CCE's Fluidized Bed Jet Mills are able to achieve fine particle sizes at high throughput with narrow particle size distribution. Sizes as fine as 1 micron are possible with some materials. The mills are also effective at milling very abrasive materials with minimal wear because the system relies on particle-on-particle impact and is built with wear-resistant surfaces and components. The AVEKA CCE mills are uniquely valuable in terms of efficiency when compared to 1) other dry milling methods by which to achieve ultra-fine particle sizes, or 2) wet grinding methods which require a costly drying step thereafter.
AVEKA CCE Technologies also offers a lab-scale jet mill. The Model 20 Opposed-Jet Lab Pulverizer is designed to be used in closed circuit with the Model 100 Classifier (link to Air Classification) for the production of dry powders, in lab size quantities, at rates up to 4.5 kg/hr. The Model 20 has similar capability in terms of particle size to the Fluidized Bed Jet Mills. This closed circuit combines the particle-to-particle impact of opposed jet fluid energy milling with high efficiency classification, resulting in the production of steep distributions with close top size control. This combination allows the user to expand the versatility of the lab classifier in the production of small quantity, narrow distribution products with a minimum of equipment adjustment.
AVEKA CCE Technologies will work closely with you to understand your need and which model(s) bet fits your application. AVEKA CCE engineers will work with you to customize the system to fit well within your process and bring value to your project, ensuring that your needs are met with the precision equipment that AVEKA CCE offers. Call AVEKA today to custom build your new Fluidized Bed Jet Mill.
Capabilities and Equipment Specs
Product Line Description – Production Scale Jet Mills:
| | | | | |
| --- | --- | --- | --- | --- |
| Model No. | DPM-1 | DPM-2 | DPM-3 | DPM-4 |
| Air Flow, scfm* | 150 – 250 | 300 – 500 | 600 – 1000 | 1100 – 1500 |
| Number of nozzles | 3 | 3 | 3 | 3 |
| Rotor speed, rpm | 500 – 9000 | 400 – 5200 | 360 – 3600 | 310 – 3100 |
| Drive, HP | 5 | 10 – 15 | 15 – 20 | 20 – 25 |
| System Requirements: | | | | |
| Primary Air, HP | 15 | 30 | 40 | 60 |
| Purge Air, HP | 1.0 | 2.0 | 5.0 | 7.5 |
*Airflow at 100 psig, dependent on nozzle size selection
The AVEKA CCE Fluidized Bed Jet Mill System comes complete with mill, flow source, product cyclone and/or collector, feed system and control package.
Narrow product size distributions
Load cell control
Precise top size control
Temperature sensitive materials
Simple cost effective design
Abrasive resistant linings
Low maintenance/easy to clean
Four sizes ranging from 150 to 1500 scfm
Ideal for toners, abrasives, powder coatings and other fine powder applications
Wear resistant coatings
Polyurethane throughout mill body
Classifier rotor plasma-coated with tungsten carbide
Factors to Consider
What is the particle size of the feed material?
What is the target particle size?
Is the material a combustible powder?
Is the material abrasive?
What are the production quantities?
Are there any specific conditions for storage/handling the raw material prior to processing?
Predicting whether a material will respond to jet milling successfully can be difficult and often surprising, so it is always worth a feasibility trial to find out.
Good Material Candidates:
Dense, hard, abrasive, brittle, friable
Materials that respond to impact with crack propagation
Poor Material Candidates:
Wet, sticky, entangled, elastic, deforming, light/fluffy
Materials that absorb impact and/or are difficult to accelerate