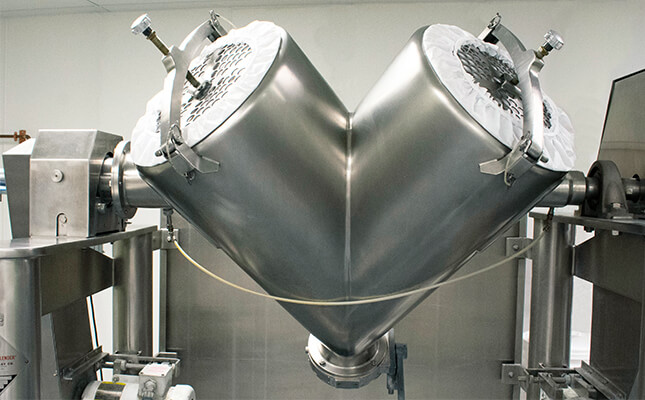 Process
What is Dry Blending?
Dry blending is the process of incorporating dry ingredients to produce a well-mixed dry product. It is also possible to effectively add a small, controlled amount of liquid to a blend if desired. For more complex blending projects, some blenders have temperature controls, which can heat the liquid stream that is added to the bed. Furthermore, temperature controlled blenders can be used to heat the bed of powder. For products that require special handling, AVEKA has range of auger types available to load and unload the material. With the multitude of blender options available, AVEKA can handle most materials with a variety of different setups.
Capabilities and Equipment Specs
Two Ribbon Blenders

Capacity of 3 to 50 cubic foot
Spraying capabilities

Two Paddle Blenders

Capacity of 30 to 100 cubic foot
Spraying capabilities

Two Zig-Zag Blenders

7 " and 10″ PK Blender
Maximum density up to 59 kg/cu4

 

ft.
Continuous process
Spraying capabilities

V-Blenders

Two, 0.1 cubic foot
Four, 0.3 cubic foot
Two, 3 cubic foot
One, 20 cubic foot

Spraying capabilities in most units

Thermal Screw

Continuous process
Spraying capabilities
Temperature controlled both hot and cold
Factors to Consider
How will the incoming and final product be packaged?
What is the incoming particle size of each ingredient to be blended?
Does your product require specific certifications – Kosher, HALAL, others?
Are there special handling requirements for your product such as safety or process related?