A customer recently approached us with a new formula for a food-grade product that involved dry blending the ingredients with an additive. They requested a volume of 80 metric tons and needed us to meet that output while keeping the overall price down.
They also required it to be Kosher certified—which was new territory for them. Fortunately, AVEKA has three food-grade facilities with Kosher, Halal, and other industry certifications, so we were able to meet their specifications.
The dry blending process
AVEKA has a wide range of dry blending equipment on hand, from Ribbon and Paddle Blenders to Thermal Screw and Zig-Zag Blenders. Due to the high volume and strict Kosher requirements, we determined that a Ribbon Blender was the best choice for this specific application.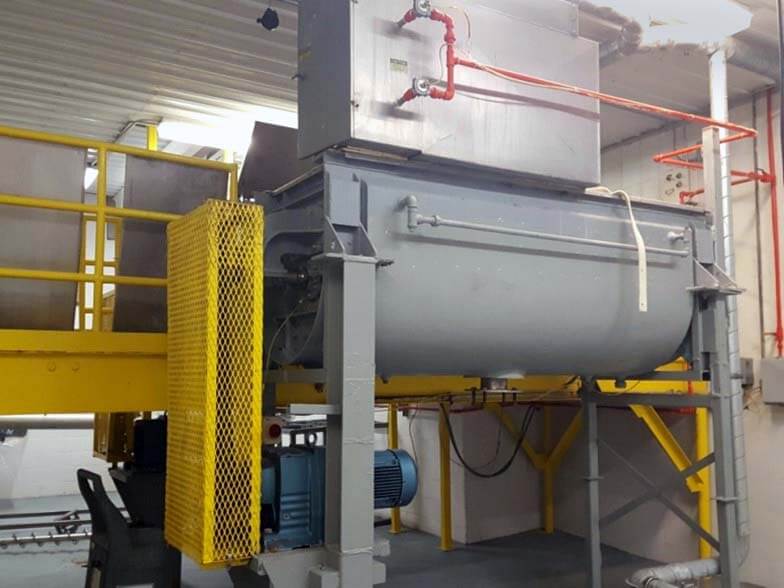 We first requested 1,000 lbs. of product from the client to begin our initial testing. We then added the two dry materials and blended them for about 10 minutes. Once the mix was sufficiently homogenous, we introduced a liquid base—slowly at first to get the initial coat started. We continued to blend for another 20 minutes, adding the remaining liquid at a faster rate as the process went on.
Once the dry blending was complete, several samples were taken. The good news was that we determined the coating to be acceptable. Unfortunately, however, the particle size was significantly above our target range, so further milling was required.
Further milling and packaging
To reduce the particles down to a more uniform size, the product was transferred to one of our in-house hammer mills. Once the product was comminuted down to the desired size, it was passed through a SWECO screen for verification and quality assurance.
From there, the product was ready to be packaged. While the initial test batch was collected in lined fiber drums, the remainder of the product was sealed into 50 lb. craft bags and palletized for easy transport.
What can AVEKA dry blend for you?
Whether you're working with food-grade products, beauty care items, or industrial materials, we have a wide variety of blenders and auger types available, allowing us to handle almost any type of material. We'll combine your dry ingredients to a precise ratio and achieve a truly homogenous mixture.
Get in contact with one of our experts today to discuss your unique dry blending solution.