Over 30 years' experience in the milling and classification industry.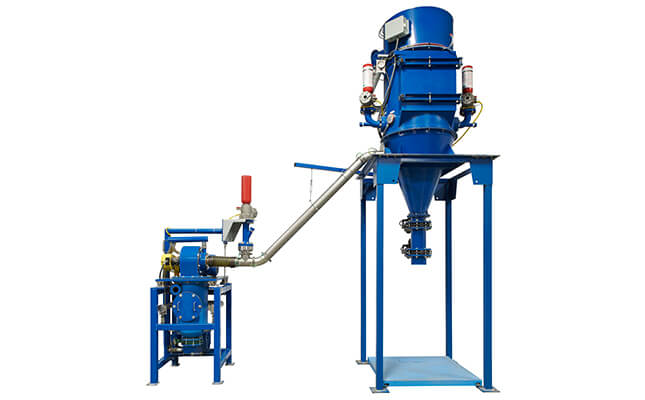 Process
What is Jet Milling?
The AVEKA CCE Fluidized Bed Jet Mill, also known as Air Classifying Mill, incorporates dense phase micronization using turbulent, free jets in combination with high efficiency centrifugal air classification within a common housing. This combination allows for enhanced comminution by high probability particle-on-particle impact for breakage and a high degree of particle dispersion for improved separation resulting in lower overall energy consumption. Jet Milling is an efficient way to mill or micronize various chemicals, polymers, ceramics and other friable materials. Abrasive and temperature-sensitive products can be finely ground with minimum contamination. The simple, easy-to-clean, cost-effective design offers precise top size control with narrow size distributions in the 95% < 5 um to 95% < 70 um size range. Load cells are used to control mill load precisely for optimum grinding efficiency and/or product size distribution control.
The raw material feed is introduced into the common housing through either a double flapper valve or injector. Mill load is formed by flooding the pulverizing zone to a level above the grinding nozzles. Turbulent, free jets are used to accelerate the particles for impact and breakage. After impact, the fluid and size reduced particles leave the bed and travel upwards to the centrifugal classifier where rotor speed will define what size will continue with the fluid through the rotor and which will be rejected back to the particle bed for further size reduction. The high degree of particle dispersion leaving the pulverizing zone aids in the efficient removal of fine particles by the classifier. Operating parameters of rotor speed, nozzle pressure and bed level allow for optimizing productivity, product size and distribution shape.
AVEKA CCE Technologies maintains lab facilities for customer testing, equipment evaluation and custom processing.
Capabilities and Equipment Specs
Jet Milling Tolling/Test Equipment installed at AVEKA CCE Technologies:
Five Model DPM-2 Fluidized Bed Jet Mills
One Model DPM-1 Fluidized Bed Jet Mill
One Model 20 Opposed-Jet Pulverizer, coupled with Model 100 High Efficiency Centrifugal Air Classifier

Lab-scale machine for running small quantity feasibility tests for jet milling and/or air classification
Minimum quantity for a trial run is 200 g; 500+ g preferred
Tolling/Test Run Guidelines:
| | | |
| --- | --- | --- |
| Model No: | DPM-1 | DPM-2 |
| Minimum run quantity (kg)* | 20 | 90 |
| Preferred run quantity (kg)* | 90 – 225+ | 225 – 450+ |
| Typical throughput, kg / hr** | 35 – 60 | 90 – 180 |
*For test runs on equipment installed at AVEKA CCE Technologies
**Rates are dependent on materials and milling conditions
Wear resistant coatings
Polyurethane throughout mill body
Classifier rotor plasma-coated with tungsten carbide
Factors to Consider
What is the particle size of the feed material?
What is the target particle size?
Is the material a combustible powder?
Is the material abrasive?
Good candidates
Dense, hard, abrasive, brittle, friable
Materials that respond to impact with crack propagation
Poor candidates
Wet, sticky, entangled, elastic, deforming, light/fluffy
Materials that absorb impact and/or are difficult to accelerate