You probably don't think much about it, but there is a lot more that goes into packaging than you may realize.
A package is responsible for containing, protecting, preserving, transporting, informing, and selling a product. It is at times an art, a science, and a technological achievement.
But sometimes, a product doesn't get packaged correctly the first time and needs to be repackaged.
Here's an example of one such occasion.
An issue with agglomeration
A customer came to us recently, requiring our assistance with a packaging issue they were experiencing. They had been storing a food-grade material that consisted largely of fructose inside 2,000 lb. super sacks in one of their warehouses.
The problem was, simple sugars like fructose tend to agglomerate—or clump—under these types of circumstances, which was exactly what had happened. Their product was no longer the consistency they needed, so they turned to AVEKA for a solution.
AVEKA's repackaging solution
We first conducted an initial test using one of the super sacks they provided. We ran it through our SWECO screener and gave the client some suggestions based on what we saw. They were happy with the amount of the product that we determined could be feasibly salvaged.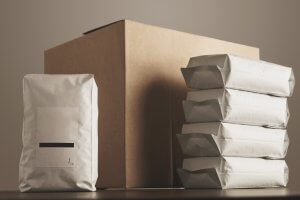 From there we took the remainder of the sacks and ran the material down the hopper and through the screener, separating it out by size. We provided additional quality inspection by using magnet traps for metal detection as well as random laboratory sampling.
The final product was repackaged into much smaller, 25 kg food grade bags. We could have opted for 1–5-gallon pails or 35–50-gallon fiber drums with food-grade anti-static liners and sealable lids, but we ultimately determined that the smaller bags would be the optimum choice for reducing agglomeration.
While it wasn't required in this case, we also offer the ability to liquid blend a dry feed material prior to repackaging. Our in-house high-shear mixers can disperse an otherwise immiscible ingredient into a continuous, flowable product.
Time to label and ship
Once all the bags were filled, the product was placed onto heat-treated pallets. The client then sent over updated label templates, which we printed off in-house and affixed to each of the bags.
The product was now ready to be shipped, and the customer was very pleased with the final outcome.
Make AVEKA your partner in packaging
Is your current product packaging outdated? We can provide a brand-new, cost-effective option.
Do you require a new label for a particular customer or country? We can repackage and/or relabel the product for you.
Is your product too dusty, fragile, or temperature-sensitive for its current packaging? We can help you find a container that better suits your unique situation.
Whatever your repackaging needs, AVEKA is here to help with a wide range of different options available. Contact us today to learn more.