Used for far more than just candles and crayons, wax is one of those remarkable yet commonplace materials that never ceases to amaze with its wide range of practical applications.
One such area of use is in the automotive and foundry work industries, where wax is predominantly used as a versatile lubricant. In fact, one of our customers came to us recently with just such a need—and fortunately for them—they came to the right place.
The unique challenge
The customer required uniformly spherical wax particles that would flow freely to help press a variety of different materials together with little to no friction. They had a target particle size of 20–40 microns, and because they were to be used in a foundry molding application as a lubricant, nailing the final specifications was absolutely crucial.
Considering all of these factors, we determined that melt spraying the wax with high-temperature atomized air would be the ideal solution to obtain the results they needed.
The melt spraying process
We began by adding the large wax particulates into the oil-jacketed tank of our melt spraying machine where it was soon melted down. The molten material was then air atomized through a 2-fluid nozzle into the chamber, where the particles were quickly cooled with compressed air into wax droplets.
These droplets were screened directly off the collection cyclone to remove any large chunks of wax. Our initial testing (SEM imaging and differential scanning) revealed that we weren't getting the spherical shape we wanted, so we needed to make some alterations to the process.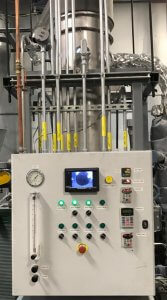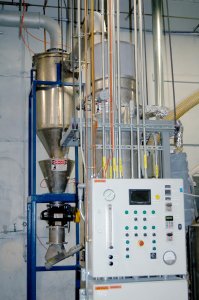 The AVEKA solution
We determined that the wax particles were not being given enough time to fully freeze into a spherical droplet before they made contact with the chamber wall, thus resulting in partial deformation. Our solution was to increase the atomization air temperature in the chamber to hasten the solidification process.
Once we made these changes, we ran another trial batch through the melt sprayer and found the resulting particles to be nearly perfectly spherical. The product was then further screened to achieve a tighter particle size distribution, resulting in an ideal material for the customer.
The final product was packaged into super sacks and delivered to yet another satisfied customer.
Create your free-flowing powders with AVEKA
The AVEKA Group is ready to design, scale-up, and manufacture your proprietary melt sprayed products. Our facilities are equipped to produce industrial and food-grade materials at production scale, ranging anywhere from 10–1000 microns. Contact us today for a flexible approach to your fine particle production.