AVEKA's extensive tray drying capabilities and experience serve multiple industries at all scales.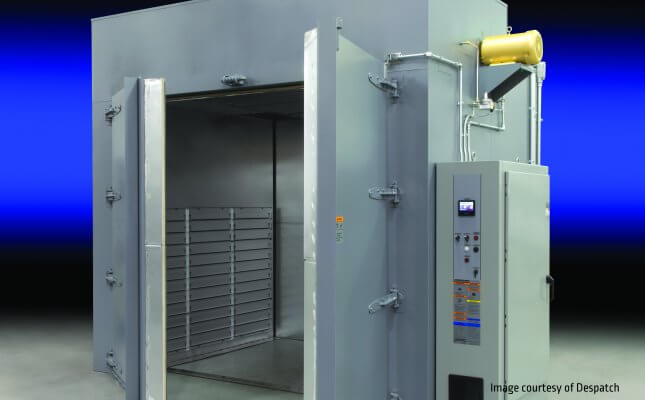 Process
What is Tray Drying?
Tray drying is a batch process used to dry materials that are liquid or wet cake. The input materials are batched, placed into trays and loaded into AVEKA's overhead ovens for drying. Tray drying works well for material that requires more gentle processing or cannot be atomized in an air stream due to viscosity. The resulting product can vary widely based on chemical and physical characteristics.
AVEKA utilizes ovens equipped with electric or steam elements, forced recirculating air and forced exhaust. Furthermore, nitrogen purging and explosion proof ovens are available for solvent evaporation. Trays are typically constructed from aluminum or stainless steel, or custom drying trays can be made to maximize efficiency. AVEKA's full-service analytical laboratory allows for rapid process adjustments during trials and excellent quality control for production operations. For example, tray dried products can be characterized by measuring volatile content. Additionally, extensive pre- and post-processing capabilities contribute to the turnkey experience AVEKA provides.
Capabilities and Equipment Specs
Tray Drying Equipment:
Four 24 kW Walk-In Ovens

Surface Area = 74,750 cm²
Load Volume = 380 liters
Maximum Temperature = 340°C
Exhaust up to 580 KG/hr.

One 51 kW Walk-In Oven

Surface Area = 344,500 cm²
Load Volume = 760 liters
Maximum Temperature = 200°C
Exhaust up to 580 KG/hr.

One Portable Steam Circulated Oven

~ 90 pans, 76 x 50 cm
Maximum Temperature = 130°C
Pre- and Post-Processing Capabilities:
Liquid batching tanks (many available options)
Homogenization
Filtration and separation
Size reduction
Screening and classification
Packaging
Factors to Consider
Is a solvent present in your material?
What is the desired moisture content of the finished material?
Is the finished material highly temperature sensitive?
What are the storage/ handling requirements for the input materials?