With decades of experience in dispersion formulation optimization and process control, AVEKA offers a great environment for new material invention and quality production.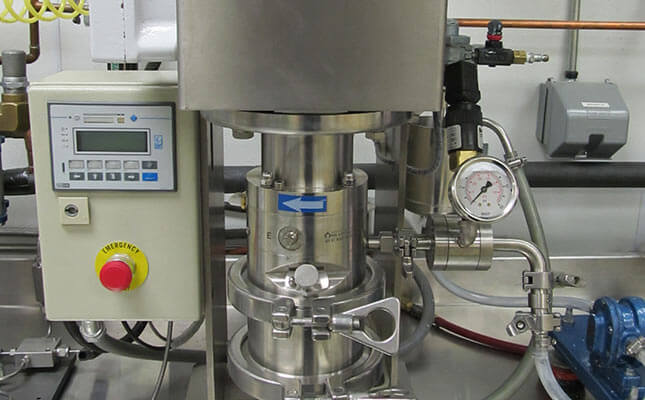 Process
What is Bead Milling?
Bead Mills are machines for dispersion processing, where solid particles (pigments, fillers) are reduced in size and finely dispersed and wetted out in a liquid phase. Small ceramic, glass or metal beads are agitated inside the mill chamber to aid particle size reduction through impact and energy input while the dispersion is pumped through the mill.
Bead mills are one of the most effective methods for processing fine particles into sub-micron or even nanometer size range. A wide variety of designs exist to adapt to the different viscosities, material characteristics and targeted particle sizes of dispersions. Depending on the machine design, bead mills are operated in discrete pass or continuous operation.
AVEKA operates a variety of different high-energy bead mill designs that can handle almost any type of dispersion. Grinding media from 2.5 down to 0.3 mm can be used to create ultra-fine dispersions. With its selection of dispersing equipment, AVEKA is perfectly equipped to serve different industries, from aerospace to micro-electronics, agrichemicals, cosmetics, digital printing and medical device applications.
AVEKA has the research and development infrastructure as well as production capabilities to create (nano-) fine dispersions with bead mills. AVEKA has an R&D bead-milling simulator for quick tests, lab-sized mills, production-sized mills and state-of-the-art characterization equipment to handle any dispersion project.
Capabilities and Equipment Specs
Bühler PVL-H/V R&D- bead mill, multiple dispersion zones available in steel, ceramic, polyurethane coating, continuous and discrete pass operation
Bühler Advantis V5 High-energy R&D bead mill, low viscosities, continuous operation
Bühler Cosmo V3 High-shear, Couette-type R&D bead mill for food grade products, continuous operation
Bühler K-8 Conical R&D and pilot-scale bead mill, ideal for high-viscosity dispersions, discrete pass operation
Bühler K-60 Conical production-size bead mill, discrete pass, ideal for high-viscosity dispersions
Factors to Consider
Is the product water-based or solvent-based?
What is the starting particle size?
What is the targeted particle size?
Is the formulation defined or can it be optimized?
Does the formulation contain surfactants or dispersants?
What is the product viscosity?
Does the product contain abrasive components?
Is the product temperature sensitive?