Dry high solids, viscous materials into flakes that can be milled down to your desired particle size.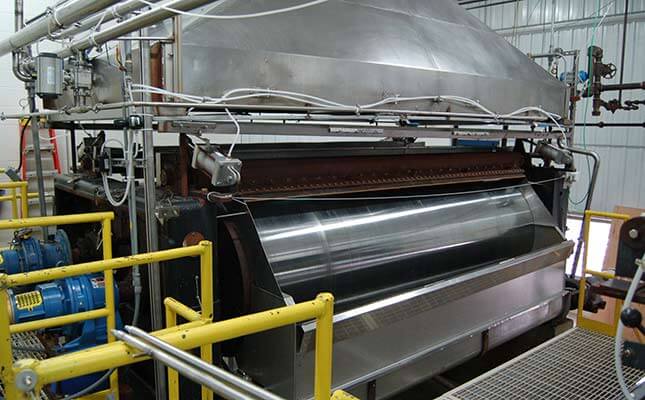 Process
What is Drum Drying?
Drum Drying also known as Roll Drying is a continuous process that creates dry powders and flakes from a liquid feedstock. The liquid feed is sprayed onto or in between two rotating drums. The drums are heated internally with steam to increase the surface temperature. As the material is sprayed onto the drums, it sticks and dries to the surface. To obtain the desired specifications, the drum's rotation speed, steam pressure and the gap between the drums can be varied. The dried material is peeled from the drums using a knife system.
The release profile will differ based on the material characteristics. Some materials will dry into a powder, others as flakes, and some will coil up as a cigar roll before full separation from the drum. Once the material releases, an inline hammer mill will reduce the size down to the desired particle size. The final powder is then transferred to a bag-house and conveyed through a screener, where it is finally packaged into bags or boxes.
Materials that are Drum or Roll Dried will result in a flaky particle with variable bulk densities. The resulting particle size will be much larger than a spray dried particle, which are typically fairly spherical and have a consistent bulk density. 
Roll Drying Particle Characteristics:
Larger particle size than spray drying
Creates a flake 
High viscosity materials which may not be spray dried may be roll dried
Capabilities and Equipment Specs
Drum/Roll Drying Equipment:
Double Drum/Roll Drying Unit ( ~1,400 kg of water evaporation per hour)

120psi steam pressure
Spray on or pooling
12 inch inline hammer mill
Batch size: tote quantities or tanker loads
Pre- and Post- Processing Capabilties:
Silo or tank storage
Liquid batching tanks
Reconstitution of dry raw materials
Reactions, pH adjustments, blending
Filtration and Separations
Homogenization
High Shear
Milling
Screening
Packaging: 25 kg Heat Sealed bags, Drums or Supersacks
Factors to Consider
What is the percent solids?
What is the target particle size?
What is the desired moisture content?